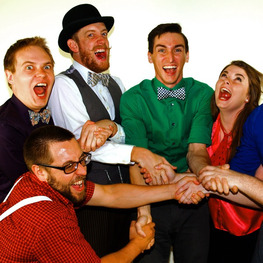 Alamo City Improv
Vereinigte Staaten von Amerika / Texas / San Antonio
über uns
Alamo City Improv
Alamo City Improv is an improv company from San Antonio, TX founded in July 2014. They produce shows twice weekly and get involved in their community to help grow the culture of improv in a town still largely naive to it. Members of the house team have many years of improv experience and have trained at Upright Citizens Brigade (New York & Los Angeles) and the Peoples Improv Theater (New York). The next big development for Alamo City Improv is the creation of their own curriculum that they will teach with the opening of the Alamo City Improv School in spring.
Mitglieder
Cary Farrow IV

In 2010, Cary began his path of improvisation by being thrown into the performing cast of a short-form team that was low on membership and he had to just figure it out as he went. After two years of th...
Termine
Auftritte/Workshops
Keine Veranstaltungen eingetragen.