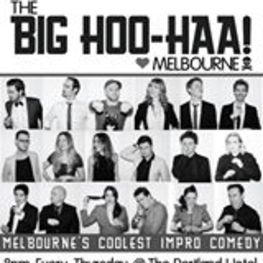 Big Hoo Haa!
Australien / Western Australia / Perth
über uns
Big Hoo Haa!
Since July 2010 we've been wowing audiences with our special blend of improvised comedy, storytelling, singing and one-liners; all designed to make you howl with laughter (or groan, in the case of the one-liners). Two teams (the Hearts and the Bones) battle it out against each other armed with only audience suggestions and a handful of props as they leave no song unsung, no joke undelivered and no pun unpunished in their mad dash for the punchline.
Termine
Auftritte/Workshops
Keine Veranstaltungen eingetragen.