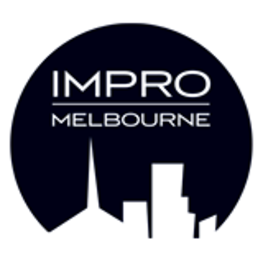 Impro Melbourne
Australien / Victoria / Melbourne
über uns
Impro Melbourne
Impro Melbourne is Melbourne's most diverse improvisation theatre company. Formed by Russell Fletcher and Christine Keogh in 1996 it is now run by General Manager Rik Brown and the Impro Melbourne Committee of Management, chaired by Vicki Kyriakakis. The company is led by Artistic Directors, Katherine Weaver and Patti Stiles. Since 1996 Impro Melbourne has produced all forms of improvised theatre from minute-long games and impromptu musicals to Shakespeare-on-the-spot and hour-long fully improvised plays. We currently produce the global impro format Theatresports™, as well as Keith Johnstone's two other competition formats Maestro™ and Gorilla Theatre™. In 2004 we developed a schools program which has now become a highly acclaimed series of demonstration shows and workshops for primary and secondary students, which is managed by Regional Arts Victoria. Impro Melbourne's reputation continues to grow as we travel across Australia and overseas. The company has performed and taught in Asia, Europe, South Africa and North America. We continue to share our innovative techniques with the impro world and will never stop searching the globe for inspiration. Key performers in the company have been working as actors and improvisors in Melbourne, Sydney and overseas for over 15 years on the stage and in TV and film. Our performance Ensemble includes Amanda Buckley, Amy Moule, Anna Renzenbrink, Chris Broadstock, Emily Taylor, Gordon Dorin Greg Lavell, Jaime Cerda, Jamie Robertson, Jason Geary, Jenny Lovell, Karl McConnell, Katherine Weaver, Kevin Yank, Lliam Amor, Mark Gambino, Michelle Nussey, Mike Bryant, Merrilee McCoy, Mimeon Carville, Nick Gardiol, Patrick Duffy, Patti Stiles, Rama Nicholas, Rik Brown, Sarah Kinsella, Simon Dowling, Tim Redmond, Victoria Healy and Vicki Kyriakis. Notable Alumni include Julia Zemiro, Russell Fletcher, Geoff Wallis, Carole Patullo, Andrew Bayly, Chris Gregory, Kate Herbert, Geoff Paine and Ross Daniels. Our shows are truly improvised, including the technical side of our shows. Impro Melbourne has the good fortune of working with Production Manager Josh Dore and Technical Wizard Jaklene Vukasinovic.
E-Mail-Adresse
publicist@impromelbourne.com.au
Gegründet:
No Data
Spielerzahl:
No Data
Eintrag im Wiki:
No Data
Termine
Auftritte/Workshops
Keine Veranstaltungen eingetragen.