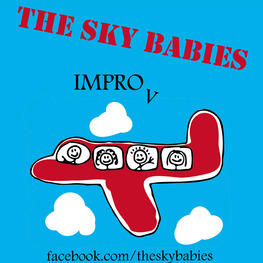 The Sky Babies
Irland / Connacht / Galway
über uns
The Sky Babies
The Sky Babies are an improv troupe based in The West of Ireland. We do both country AND western. We also host Wingin' It Improv once a month in Galway - Ireland's first monthly Improv Showcase which welcomes travelling improvisers and troupes.
Mitglieder
Skybaby 1

Órla Mc Govern is Co-Director of Improv Fest Ireland, and Artistic Director of The Sky Babies - an Improv troupe based in the West of Ireland. The group performs shortform, longform, and fusionform im...
Termine
Auftritte/Workshops
Keine Veranstaltungen eingetragen.