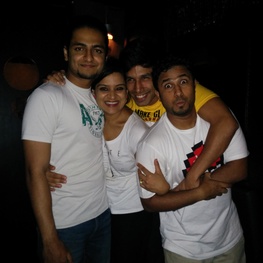 The Improvisers India
India / Maharashtra / Mumbai
about us
The Improvisers India
'The Improvisers' are a group of four experienced comedians who will take any suggestion from the audience and turn it into an explosive improvised show. Everything you see will be made up on the spot. Nothing rehearsed, nothing scripted. Incorporating music, theatre and comedy this show will be like nothing anyone has seen before, including us.
Address
71 Nepeansea Rd, Tulips Apartments, Flat 31, 3rd Floor
E-Mail
theimprovisersindia@gmail.com
Founded:
2014
Number of Performers:
4
Wiki entry:
No Data
Events
Shows/Workshops
No events listed.