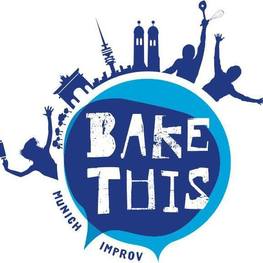 Bake This
Deutschland / Bayern / München
über uns
Bake This
Bake This is Munich's international, English speaking improv troupe. We've been mixing it up since 2011, performing regularly, and challenging ourselves to take risks on and off stage. Our name, Bake This, derives from our original rehearsal space in a small bakery and reflects our diversity in blending comedy with serious theatrical elements. In addition to our monthly performances, Bake This has performed at a TEDx event, Germany's Biggest English-German Comedy Show, the INTERACT fair at TUM Graduate School, and led improv workshops for schools and companies around Munich. Over the years, we've had the pleasure of working with improv legends as Patti Stiles, Jill Bernard, Lee White, Inbal Lori, Rod Ben Zeev, Derek Flores, Bart Van Loon, and Lisa Rowland. Bake This loves to bake it big on stage, and if it can be belted out in song, even better - big emotions, big fun!
Mitglieder
Jodi Pfleghar

*Artistic Director of Bake This improv *Producer of Improvember, the Munich International Improv Festival *Co-founder and improv teacher at ImproMunichorn...
Termine
Auftritte/Workshops
Keine Veranstaltungen eingetragen.