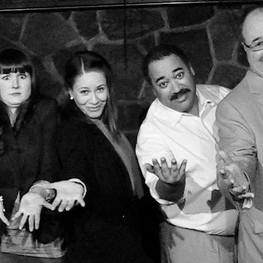 Special Features Musical Improv Troupe
Kanada / Ontario / Toronto
über uns
Special Features Musical Improv Troupe
Take your favorite movie. Think of a sequel. Make it a musical. And now improvise it all on the spot. That is Special Features. Special Features is an eclectic collection singers, improvisers, musicians, and film geeks who has taken their unique movie and television based brand of improvised musicals and carved out a niche for themselves in the Toronto improv scene.
Mitglieder
Dale Wells

I am a Toronto-based improviser and co-creator of improv troupes: The Dandies, Special Features Musical Improv Troupe, and DJEKKYL....
Anschrift
Imperial Pub
E-Mail-Adresse
specialfeaturesmusical@gmail.com
Gegründet:
2011
Spielerzahl:
6
Eintrag im Wiki:
No Data
Termine
Auftritte/Workshops
Keine Veranstaltungen eingetragen.