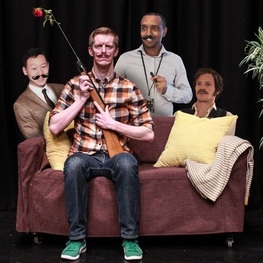 Mustache Support Group (M.S.G.)
Norway / Oslo
about us
Mustache Support Group (M.S.G.)
Our freeform impro performances are like MSG: happy, tasty, and super addictive! We enhance the flavor of any impro show. M.S.G. are Aiwei, Liban, Terje & Kevin! and "We give you and your mustache the support you need"
Members
Kevin JD Gow

Impro performer + teacher + coach + producer through Impro Neuf International, Oslo. Founder and member of the Oddballs improv team in Oslo. Member of Loose Connections improv team in Oslo. Found...
Address
Oslo
E-Mail
kevin.gow@gmail.com
Founded:
2018
Number of Performers:
4
Wiki entry:
No Data
Events
Shows/Workshops
No events listed.