Die Improbanden aus Berlin haben sich Anfang des Jahres 2011 gegründet und bestehen aus 8 Spielerinnen und Spielern und einem Musiker.
Neben den regelmäßigen Shows in Berlin spielten die Improbanden auf Impro- und Theaterfestivals u.a. beim Berliner Impro Marathon, dem Potsdamer Impro-Festival, dem 100° Festival, der re:publica und bei 10 Jahre Bühnenrausch.
Die Improbanden sind relativ formatkreativ und spielen sowohl Kurzform wie auch eingenentwickelte Langformen. Anlässlich des transmediale.12 Festivals spielten sie als eine der ersten Gruppen Shows mit starken Einbau digitaler Medien, wie Twitter, der Wikipedia oder Google News.
Seit 2013 bieten die Improbanden eigene Improkurse an und geben ihr Wissen an wissenshungrige Leute weiter.
last update: 2014-05-01
by
macro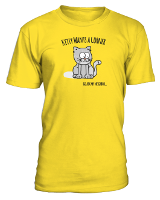 Improv-Shirts
There are now T-shirts with impro motifs. The proceeds will go to the wiki and help us continue.

Text is available under CC BY-SA 3.0 DE; additional terms may apply. By using this site, you agree to the Terms of Use and Privacy Policy.