Synonyms
Cross dubbing
Introduction
In this scene there will be three characters, and each of the character's voices will be supplied by one of the other players. [it]
Description
This is an extraordinarily challenging focus game. Accurate lip synching is so essential. You not only have to be paying attention to when the actor that has your voice is speaking (you have to lip synch), you also must offer voice for another actor in the scene.
Gimmicks
Forcing a player to be lip synching while dubbing another player. The game is already hard enough.
Variations
The number of players can be altered.
source: http://learnimprov.com/?p=381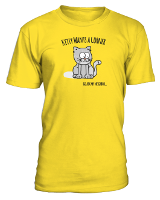 Improv-Shirts
There are now T-shirts with impro motifs. The proceeds will go to the wiki and help us continue.

Text is available under CC BY-SA 3.0 DE; additional terms may apply. By using this site, you agree to the Terms of Use and Privacy Policy.