Charna Halpern was born and raised in Chicago. She is co-founder of the iO, formerly known as ImprovOlympic (the IOC prohibited the use of the name "Olympic"). The theater has locations in Chicago, Los Angeles, and formerly in North Carolina. iO Chicago opened in 1981 and started teaching the Harold in 1984 with partner Del Close in the Chicago theatre community.
Together with Del Close, she wrote the book "Truth in Comedy" in 1994, and since the death of Del Close, Charna has led the iO alone.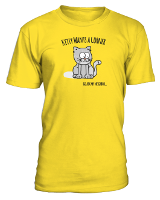 Improv-Shirts
There are now T-shirts with impro motifs. The proceeds will go to the wiki and help us continue.

Text is available under CC BY-SA 3.0 DE; additional terms may apply. By using this site, you agree to the Terms of Use and Privacy Policy.