Everybody runs around the room until the game leader shouts a number. Instantly, everybody forms groups with the same number of players as the number that was called out. They put their arms around each other and sit down. Anyone left standing is out of the game. It is amazing that even when it gets hectic, the formation of groups rises.
Example: 9 players, The number 3 is uttered.
I learned the game from Manuel Wolff, who in turn learned it from Arwe of the group Samvirkelaaget from Norway, which invented it.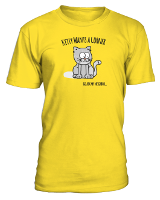 Improv-Shirts
There are now T-shirts with impro motifs. The proceeds will go to the wiki and help us continue.

Text is available under CC BY-SA 3.0 DE; additional terms may apply. By using this site, you agree to the Terms of Use and Privacy Policy.