Ask for two professions that have nothing to do with one another. Someone in the scene plays a character that is now doing the second job. HOW the job is done is affected by the first job. Ex: Vet/Auto Mechanic. The mechanic, might check a car for fleas, neuter a van, or put a milk-bone in the gas tank.
Video example
Whose line is it anyway - Old Job - New Job (Policeman - Minister)
https://www.youtube.com/watch?v=f3xW3_2ee4s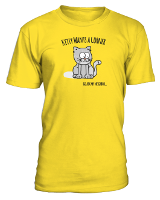 Improv-Shirts
There are now T-shirts with impro motifs. The proceeds will go to the wiki and help us continue.

Text is available under CC BY-SA 3.0 DE; additional terms may apply. By using this site, you agree to the Terms of Use and Privacy Policy.