A musical game. The host asks for two suggestions: a country (where the one player is in prison) and a crime the player committed.
The players start a scene then. One player visits the other in prison. The prisoner sings his/her problems to the visitor, the visitor sings back his replies.
The players can use the country as an inspiration for their musical style.
Video example
Whose line is it anyway - Prison visitor
https://www.youtube.com/watch?v=cHTbCDwP0Vw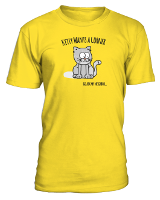 Improv-Shirts
There are now T-shirts with impro motifs. The proceeds will go to the wiki and help us continue.

Text is available under CC BY-SA 3.0 DE; additional terms may apply. By using this site, you agree to the Terms of Use and Privacy Policy.