Deux joueurs ou plus sont sur scène et développent une scène simple. Chaque joueur porte un chapeau. L'objectif des joueurs est de voler les chapeaux des autres joueurs. Un joueur, dont le chapeau a été volé, quitte la scène. Le joueur qui est le dernier à garder son chapeau, a gagné.
Variante: Au lieu de chapeaux, vous pouvez aussi utiliser des écharpes attachées à l'arrière de la ceinture.
Cet exercice peut aussi être utilisé au début, pour décider des joueurs de la scène suivante.
Il y a une autre manière et forme de ce jeu au début comme jeu sur la scène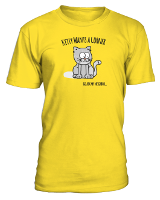 Improv-Shirts
There are now T-shirts with impro motifs. The proceeds will go to the wiki and help us continue.

Text is available under CC BY-SA 3.0 DE; additional terms may apply. By using this site, you agree to the Terms of Use and Privacy Policy.