First, a base scene is played by 2 to 3 players. The same number of players goes out the door and does not see this scene. Then the players will be brought in. Now the original scene is played again without sound. The new players dub this silent scene. The result is a new story, despite having the same movements.
This game can also be made into a match. Then each team must dub the base scene once.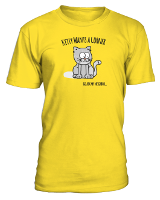 Improv-Shirts
There are now T-shirts with impro motifs. The proceeds will go to the wiki and help us continue.

Text is available under CC BY-SA 3.0 DE; additional terms may apply. By using this site, you agree to the Terms of Use and Privacy Policy.