A short scene is played by two to three players with a pretence of an everyday plot (or something else).
This is then repeated two or three times differently with different feelings (replay).
The choice of feelings is left to the audience, but one should choose the most opposing feelings.
Example of feelings: in love, angry, tired, crazy, silly...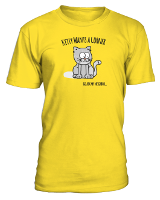 Improv-Shirts
There are now T-shirts with impro motifs. The proceeds will go to the wiki and help us continue.

Text is available under CC BY-SA 3.0 DE; additional terms may apply. By using this site, you agree to the Terms of Use and Privacy Policy.