The interruption of a scene means (as opposed to a cut) that the actor from the current scene only inserts a brief pause where their motion and speech stops (if necessary, they freeze) after which they continue to act in the same scene. This short break offers the actors or presenter an opportunity to change the scene, for instance, to take in or switch out some additional guidelines from the crowd. In certain cases, the planned break can, of course, turn into a cut, if, for instance, another setting is proposed by the crowd.
The presenter can indicate the interruption with a loud "Stop!" and/or with clapping.
See also: Beat, Flashback, Cut short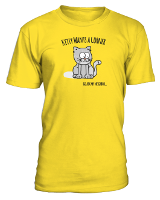 Improv-Shirts
There are now T-shirts with impro motifs. The proceeds will go to the wiki and help us continue.

Text is available under CC BY-SA 3.0 DE; additional terms may apply. By using this site, you agree to the Terms of Use and Privacy Policy.